Science has more than its share of enormous mysteries. Any halfway comprehensive list would be far too long to compile here. Yet perhaps none of these mysteries is stranger, and of a more fundamental nature, than that of the mystery of wave-particle duality.

According to widely duplicated variations of the famous double-slit experiment, wave-particle duality is inherent to photons, electrons, and even some fairly large molecules consisting of many hundreds of atoms. That is, each of these quantum collections of mass/energy appears to act as a discreet particle, and as a wave form, simultaneously. This bizarre reality of the universe has been a paradoxical head-scratcher for over 200 years.
A simple form of this experiment was performed by Thomas Young in 1801. Young was able to create an interference pattern with light, which is part of the spectrum of electromagnetic energy. The interference pattern appeared to indicate that light does, in fact, act as a wave, which had been Young's widely panned argument before he carried out the experiment. However, each photon impacted the screen behind as a discreet point, so light was also clearly, and quite paradoxically, comprised of discreet, non-wavelike particles.
By 1974, Pier Giorgio Merli, Gian Franco Missiroli, and Giulio Pozzi ran a version of the experiment using single electrons, thus cementing the strange dualistic wave-particle existence of electrons, as well as photons.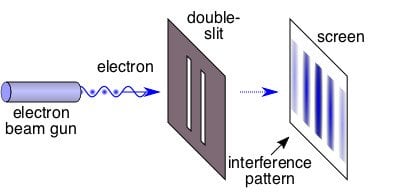 So we now know that photons, electrons, atoms and even molecules lead a mysterious sort of double life. They exist as discreet, quantum units, so they definitely are particles. However, according to variations of the double-slit experiment, each of these "particles" also exists as a wave. The paradox lies in the fact that a particle is, virtually by definition, the exact opposite of a wave, which is a non-localized, non-quantum phenomenon. So how can one thing be two separate things which are polar opposites?
Since wave-particle duality underlies every single quantum aspect of our existence in this universe, it is almost giggle-inducing to claim that we know just about all there is to know about the universe.
In my book The Enlightening, I reveal the true physical mechanism behind this most basic mystery of our Earthly scientific knowledge. As it turns out, the apparent dual nature of the photon, or electron, or atom, or molecule reflects a basic, physical truth of the universe. This truth faithfully manifests itself to us as a magnificent and elegant illusion, of sorts. Or perhaps it is more accurate to simply call it a magnificent and elegant truth of the universe, and not a paradox, after all.
Don't you think that it's about time we cracked this enigmatic puzzle? Is it right to think we know just about everything, when a universal mystery like wave-particle duality underlies the entire physical nature of our existence?